Hot Foil Stamping Controller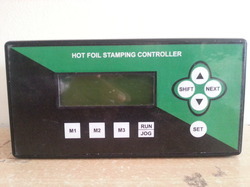 Hot Foil Stamping Controller
Product Code : hot-foil-stamping-controller
Brand Name : GENNEXT CONTROL
Hot Foil Stamping Controller
offered by us is available with different foil pull settings in order to provide maximum foil use. Available with features comprising counting of complete stamps, manual control of stepper motor and allowing flexible motor turning to suit machines, this also is featured with 20X4 backlit LCD, 4 Leds and user friendly MMI along with 16 keys membrane keyboard. With choice of operator setting fundamental parameters related to the work in this page, all fifteenth programs come with distinct counters where anybody can re-put counters individually.
Specifications:

Counting of total count, total length and total run hours.
Manual control of stepper motor.